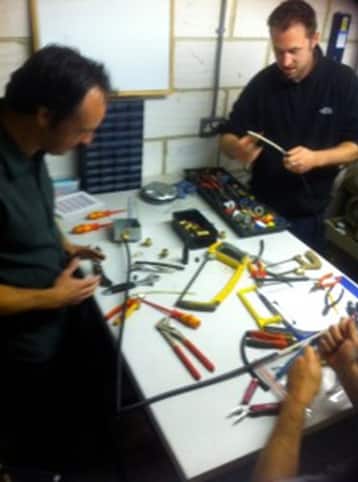 On Tap is lucky to have continuous product training from our suppliers like Ecowater and MiniMax from Harvey Softeners.
We are not just satisfied with product training and have instigated our own in house electrical training and even have our own electrical apprentice.
Keith Buck a local electrical trainer has held training sessions specifically tailored for our needs.
Phil (right) gets a lesson on the correct way to wire armoured cable from Keith Buck.
Where a pump may have to installed away from the main building either in a well or borehole then we would need to make sure the cable is safely buried and protected from accidental damage. Regulations demand the use of an armoured SWA cable.
Careful consideration is also required with regard to loading and voltage drop caused by excessive distances.
On Tap will take all this in their stride.
Call 01458 274289