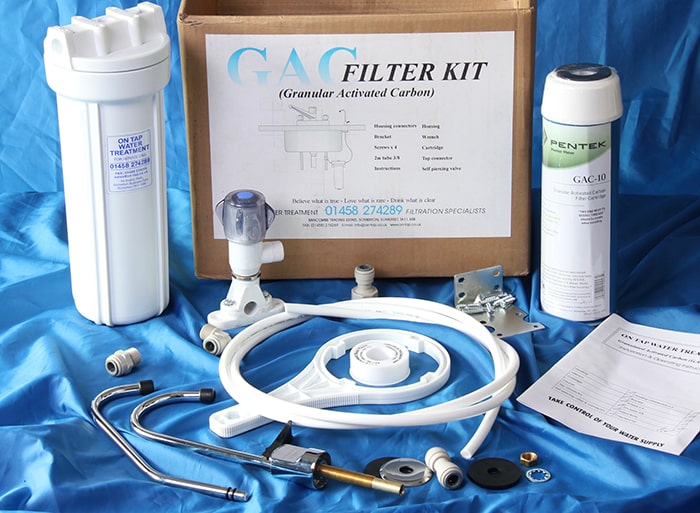 Domestic drinking water filters are normally installed under the kitchen sink with a connection onto the cold water mains pipe. The filtered water is delivered by way of a specific drinking water tap which can be conveniently located at the side of the sink.
If you don't want to have an extra tap at your sink then it is possible to install a filter housing which interrupts the supply to the existing cold tap. The only downside of this is that the cartridge may become quickly depleted because of the high volume of water used.
Some filter cartridges by other manufacturers are totally enclosed and come with 'push fit' connectors, although this simplifies the task of changing the filter the real downside is that the entire spent cartridge has to be thrown away.
At On Tap Water Treatment we favour a filter housing which contains a replaceable cartridge. We recommend that cartridges are changed at least every 6 months. To keep things simple, On Tap Water Treatment offers a free reminder service to advise you when filter changes are due. These can either be posted directly to you or delivered and fitted by our technicians at a time that suits you.
Whole House Water Filters
Where sediment or rust is a problem affecting all the household plumbing then it is practical to fit a larger sediment filter at the point where the water supply enters the house. Some filter housings are transparent so that the sediment buildup is visible. These cartridges will need to be changed periodically depending on your water supply, before the flow becomes too restricted.
Whole House Carbon Filters
It is also practical to fit larger scale carbon filtration units at the mains stop tap, (point of entry or POE) This type of filtration is used to reduce chlorine especially useful for those who have sensitive skin or who are allergic to chlorine.
On Tap Water Treatment offer systems tailored for your specific needs and installed by our experienced staff. DIY installation is also possible, for more details call us on 01458 274289