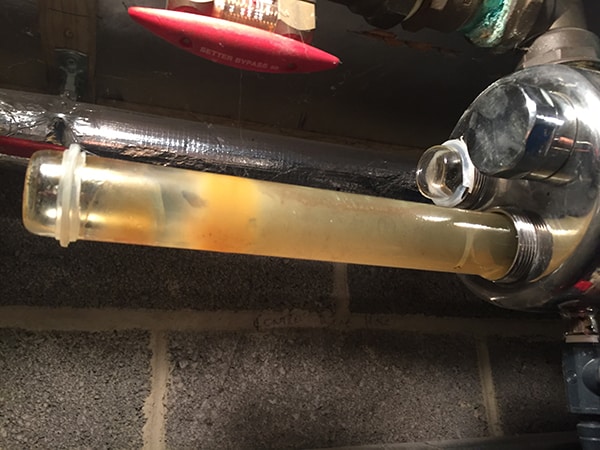 Don't forget to clean the quartz tube
It is essential to clean the quartz tube, at least annually, sooner if the water quality is poor.
Many people think it's so easy to service an Ultra Violet unit, just pull out the old lamp and slip in a new one. Without checking and cleaning the Quartz Tube this is a waste of time.
These pictures are from a site where the proper maintenance had been ignored. The quartz tubes had not been removed since the unit was installed 10 years ago. The regular lamp changes were a complete waste of money since the Quartz Sleeves were so dirty, no light could penetrate.
The quartz sleeves are fragile so need to be handled carefully. Have a spare to hand incase of breakage.
Lamps can get hot in service and if the water is hard, scale can build up on the quartz making removal difficult. Acid may be required to de-scale the tube before refitting with new sealing rings.
The correct pre-treatment of the water supply will make sure the quartz tube is kept clean.
For help with maintenance call On Tap Water Treatment on
Ultraviolet servicing/lamp changing/quartz cleaning
Ultraviolet water sterilisers rely on the correct wavelength of light penetrating into the water stream to render bacteria inactive.
The lamps need to be changed annually since the efficient wavelength of 254 Nanometers drifts as the lamp ages.
An old lamp may be lit but will not be effective.
The other items which also require regular maintenance are the sediment pre-filter and the quartz sleeve.
It is essential that the quartz sleeve or quartz tube is kept clean so that the UV light can penetrate the water to do its work.
It is normally straight forward to change the filter element in the sediment pre-filter. With a transparent filter bowl, it should be easy to see debris build-up and gauge when a filter change is due. We always change filters as a routine, at the time of the annual lamp change and will be pleased to supply a spare.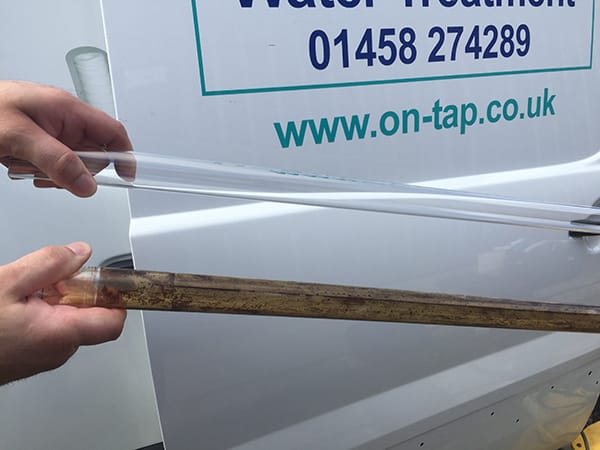 We stock spares for Silverline, Wedeco, Sterilight, Viqua, Van Remmen, KK, Aquacure, Aquafine and other popular makes.
Lamp types:-
ACUV62P
S150RL
S200RL
S212RL
S463RL
S330RL
S810RL
S36RL
S410RL
S600RL
S740RL
SP950RL
UV-DS15
UV-DS30
UV-DS55
TR150
HA500
HA502
Aquada 1
Aquada 2/4
Aquada 7/10
C1BZ
D1BZ
E1BZ
Aquafine