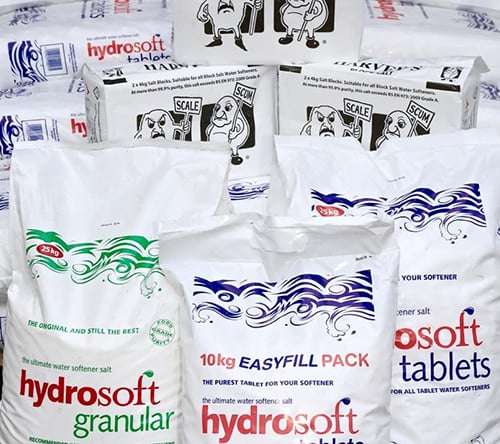 Types of Salt
Water Softener Salt
Salt (Sodium Chloride) is normally supplied in Granular, Tablet or Block form. Some water softeners are designed to run on a particular kind of salt and some will operate with all types.
Tablet and Block salt seem to be the most popular and are conveniently supplied in durable plastic sacks which, although waterproof, are best stored in a dry area.
Block Salt suitable for:
MiniMax, Kinetico, Crown, Twintec, Duoflo.
Tablets Salt suitable for:
Ecowater, Waterman, Waterside, BWT, Permutit and all single tank machines.
Granular Salt suitable for:
Manual water softeners, Dishwashers and larger commercial water softeners.
Collection or Delivery – Your choice
You can arrange to collect of any quantity of salt from our base in Somerton between the hours of 8.30 to 5.00pm, Monday to Friday.
For your convenience, we also offer a delivery service covering the counties of Somerset, Devon, Dorset, Wiltshire, Avon and parts of Cornwall. For towns served see Salt Deliveries.
We do all the lifting. We will offload the delivery in your chosen storage place and even top up your machine. As it's our technicians who deliver the salt we will always be happy to answer any queries about your water softener or filter system whilst at your premises.
To order simply Telephone 01458 274289 or complete the order form.
Want Free Salt?
At On Tap Water Treatment we operate a referral system. When someone purchases a water softener as a result of your recommendation we will show our appreciation by supplying you with either 6 x 25kg sacks of Tablet Salt or 10 packs of Block Salt or if you prefer, a cheque for £50.
Resin Cleaner ( Resin Bed Cleaner)
On Tap Water Treatment produces its own resin bed cleaner called "Resin Cure". Regular application can extend the life of your water softener resin bed and is especially effective where the water supply contains iron.
Resin Cure is supplied in 1, 5 & 20-litre containers
Hardness Test kits
If you'd like to check the effectiveness of your water softener then use one of our hardness test kits to check.  £8.50 inc VAT
Using too much salt?
If you feel that your water softener is using too much salt then it may require adjustment. The hardness setting could be set too high. Use the hardness test kit to find out the incoming raw water hardness and then reset the water softener controls to match the reading.
Another cause of excessive salt consumption can be abnormally high levels of water usage which could be the result of a water leak or garden watering.
We're alway happy to discuss your system and help you to get the very best from your water supply. Need help? Give us a call on 01458 274289 for technical advice.