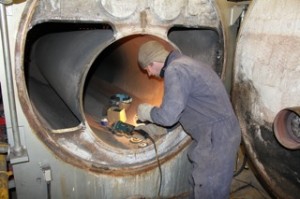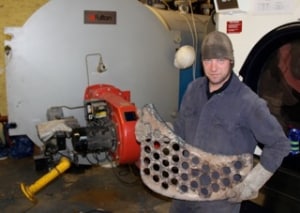 Steam Boiler Monitoring
The value of water treatment was brought home to the owner of this busy Laundry in Somerset.
The old dosing system had fallen into disrepair and because of the assumed low hardness of the incoming mains water supply, no water softener had been fitted.
The concentrating effect of a steam boiler had caused a build up of scale which prevented heat transfer and resulted in premature tube failures. The tube plates were also weakened and needed to be cut out and replaced.
This boiler is going to be out of action for a while. A mobile temporary boiler was hired to keep the business open.
On Tap were able to assess the situation and recommend a lasting solution.
A small water softener was installed to the make-up water and a new dosing pump was fitted with it's control to be taken from the boiler feed pump. When the boiler make-up feed pump runs the treatment chemical will be added.
On Tap Water Treatment will now make routine visits to check that the quality of the boiler water meets British Standards. Whilst on site we make sure there is an adequate stock of chemical and top up salt and batch tanks.
Carefully monitored feed water can save expensive down time!